May 2023: New information on Adriaen van de Venne and more
New issue: Oud Holland 136 (2023) 1
17 May 2023
This year, we open our pages with new biographical information on the seventeenth-century painter Adriaen van de Venne. This data has recently become available through several digitised archival records from the Ecartico database. Combining their discoveries, Edwin Buijsen and Harm Nijboer reshape our understanding of Van de Venne's milieu and family network.
In-depth technical and archival research on Ferdinand Bol's portrait of Lieutenant-Admiral Cornelis Tromp of c. 1675-1676 has revealed fascinating insights about the creation of the painting. Demonstrating that Bol continued to paint after his marriage with Anna van Erckel in 1669, Margriet van Eikema Hommes, Inez van der Werf, Piet Bakker and Kathrin Kirsch argue that the painting testifies to a close relation between the Bol and Tromp families.
We close this issue with the remarkable nineteenth-century Rotterdam art collector Fop Smit Jr. Due to a recently discovered photo album in the collection of the RKD – Netherlands Institute for Art History, Evelien de Visser was able to reconstruct Smit's extensive collection of as many as 240 contemporary European paintings, among them works by renowned artists of the Barbizon School. She further explains how Smits collection relates to that of his peers.
Summaries of these articles can be found below.
We are also happy to share that the RKD database has recently been enriched with articles that appeared in Oud Holland in 2015-2017 (volumes 128-130). They can now be consulted and downloaded in pdf-format for free. To do so, search for them by title. The RKDlibrary will then provide an entry to the article with a link to the pdf under 'Bestandsidentificatie'. The complete list of the newly available articles can be found on Brills' website.
Among others, these open access articles include: Katrien Lichtert on Pieter Bruegel I's journey to Italy (OH 2015-1); Edwin Buijsen on De Sinne-cunst of Adriaen van de Venne (OH 2015-2/3); Maartje Stols-Witlox on the influence of the colour of ground layers on artists' working methods (OH 2015-4); Xander van Eck on two paintings by the Crabeths brothers in the Sint Janskerk in Gouda (OH 2016-1); Margriet van Eikema Hommes and Piet Bakker on the wall hanging in the Hofkeshuis in Almelo (OH 2016-2); Eva Geudeker on nineteenth-century traveling artists from The Hague and Rotterdam (OH 2016-3/4); Alison M. Kettering on Rembrandt's portrait of Dijkgraaf Dirck van Os (OH 2017-1/2); and Robert E. Gerhardt on the image of the physician as God in Netherlandish art (OH 2017-3/4).
Oud Holland wishes our readers a fruitful reading time.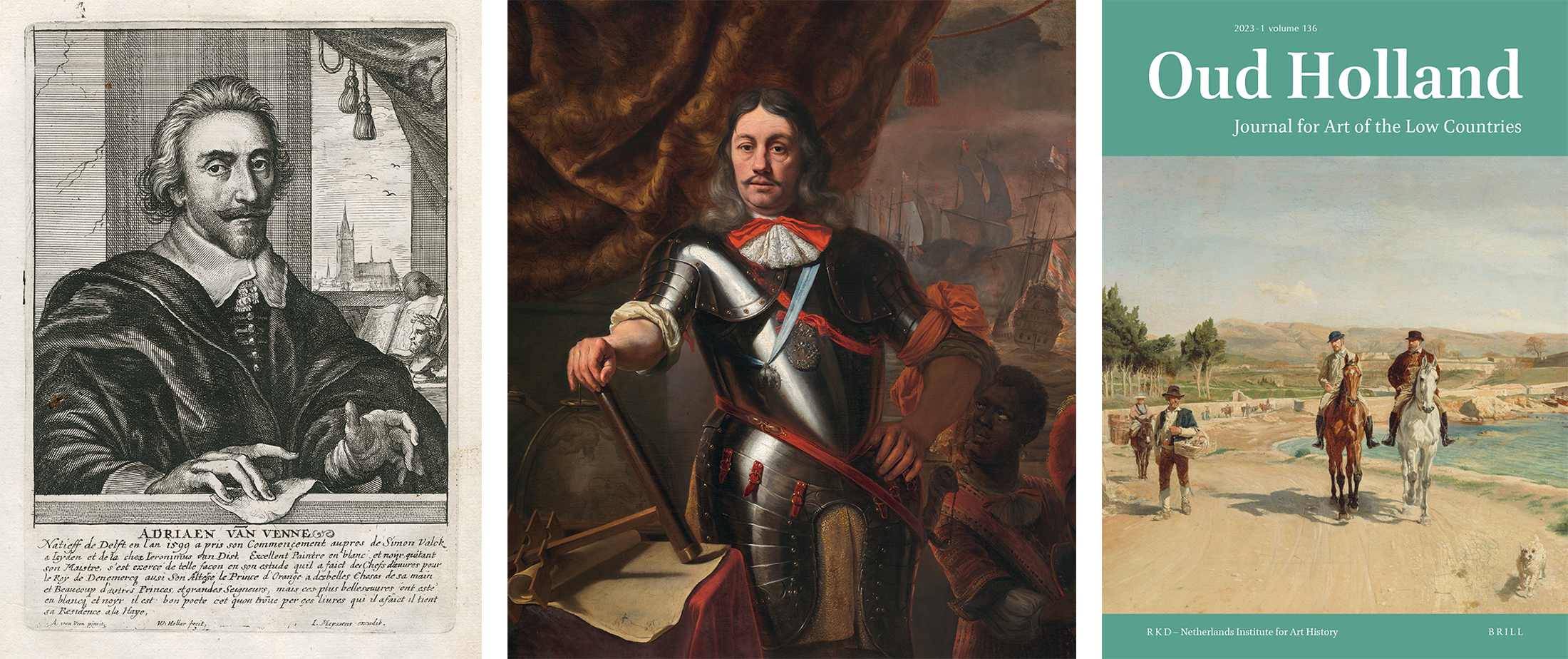 Edwin Buijsen & Harm Nijboer – New biographical data on Adriaen van de Venne (1590-1662) and his family – pp. 1-16
SUMMARY
In his biography of Adriaen Pietersz van de Venne in Het gulden cabinet van de edel vry schilderconst (1661-1662) Cornelis de Bie devotes a few lines to the painter's early years. Until recently, this was all the information we had regarding the origins, childhood and training of this versatile artist. Fresh biographical data for Adriaen van de Venne and his family, however, has recently become available from the digitised archival records of Delft, Leiden, Rotterdam and Zeeland indexed in the online Ecartico database, an initiative of the University of Amsterdam. Combining these archival discoveries enhances our understanding of the milieu in which Adriaen grew up and of his family network.
He is highly likely to have been born in 1590 (rather than 1589 as hitherto assumed) and baptised in the church in 't Woudt, near Delft. His parents were migrants from the Southern Netherlands: the stocking maker Pieter van de Venne from Lier and Jannetgen Beuvincx from Tournai. Adriaen's father died before his birth and his mother remarried in Delft in 1594 to the Mechelen weaver Laurens Wittocx. This second marriage produced a son called Salomon Lourens, who became a 'coarse painter' and bricklayer in Rotterdam. Adriaen remained in contact with this half-brother for his whole life.
Adriaen relied heavily at first on his older brother Jan, who probably arranged an apprenticeship for him with Simon de Valck, a goldsmith friend in Leiden. He later followed his brother to Middelburg, where they set up a successful printing, publishing and art dealing firm. Shortly before Jan's death in 1625, Adriaen moved to The Hague, from where he kept in contact with his half-brother Salomon Lourens in Rotterdam. They acted as joint guardians of their nephew Pieter (one of Jan's sons), who also lived in Rotterdam and worked there as a parchment maker. Archive documents from Rotterdam testify to the close links that persisted between the branches of the family in Rotterdam and The Hague. Adriaen possibly used his Rotterdam family connections to sell his paintings in this city.
Margriet van Eikema Hommes, Inez van der werf, Piet Bakker & Kathrin Kirsch – Cornelis Tromp's trophies: The origins of a late portrait (1675-1676) by Ferdinand Bol – pp. 17-48
SUMMARY
In 2018, Het Scheepvaartmuseum in Amsterdam acquired a portrait of Lieutenant-Admiral Cornelis Tromp (1629-1691), painted by Ferdinand Bol, from a private collection. Previously, this work was only known from a reproduction print by Lambert Visscher. After its acquisition, the portrait was restored in 2019, which is when its material and (art) historical aspects were examined.
In the portrait, Tromp wears two insignia: a diamond portrait medallion on a red ribbon and the badge of the Danish Order of the Elephant. This badge was added to the portrait later, but by Bol himself. Tromp was thus initially depicted wearing only one of the insignia: the diamond medallion with the red ribbon. That Bol regarded this version of the portrait as completed is evidenced by the egg-white varnish he applied to it. At a later stage however, he exchanged this insignia for the badge of the Order of the Elephant. He carefully hid the medallion and ribbon from view by first scraping off their paint and then obscuring the remains of these forms with a layer of grey paint. Finally, he added the insignia of the Order of the Elephant. During a later restoration, the paint Bol used to cover the medallion and ribbon was largely removed, revealing these forms once again.
The ship in the background is the Gouden Leeuw (Golden Lion), Tromp's flagship during the Third Anglo-Dutch War (1672-1674). Since Tromp had received the portrait medallion from the English king in January 1675, the first portrait version can be dated to February 1675 at the earliest and May 1676 at the latest, when Tromp was appointed commander-in-chief of the Danish fleet in Denmark. After Tromp was elevated to the Order of the Elephant upon his arrival in Copenhagen, Bol altered the portrait to keep it in step with Tromp's career. This chronology sheds new light on Bol's artistic practice. which was always assumed to have ended in 1669 when Bol married the wealthy widow Anna van Erckel. However, Tromp's portrait demonstrates that Bol continued to paint into the second half of the 1670s.
After his elevation to the Order of the Elephant, Tromp only allowed himself to be portrayed with this insignia, which was always depicted correctly. It was only Bol who depicted the badge incorrectly, indicating that he did not make the adjustment at Tromp's instigation. Presumably Bol did this of his own initiative, or that of his wife's, Anna van Erckel. Archival evidence strongly suggests that she was the first owner of the portrait and that she also owned a portrait, painted by Bol, of Tromp's wife Margaretha van Raephorst. It was not previously known that Bol had painted her, however a portrait by him of an anonymous woman is clearly Van Raephorst's likeness. Archival documents show that Van Erckel and Bol knew the Tromp couple personally and maintained friendly relations with them. In Bol and Van Erckel's stately canal house, the portraits would have been 'proof' of that personal relationship.
Evelien de Visser – Collecting contemporary art in Rotterdam between 1870 and 1892: The international taste of Fop Smit Jr (1815-1892) – pp. 49-68
SUMMARY
The extensive international art collection of the now virtually forgotten Rotterdam collector Fop Smit Jr (1815-1892) included as many as 240 contemporary European genre paintings and several works by renowned artists of the Barbizon School. After Smit's death, his collection was divided among his family. The recent discovery of a two-part album containing photographs of the works of art he owned made it possible to reconstruct his collection for the first time.
Based on extensive provenance and archival research, his collection is analysed and placed in the context of collecting contemporary art in Rotterdam and the Netherlands in the 1870s and 1890s. This reveals that Smit's collection differed from the prevailing Dutch taste at that time. It was distinctly internationally oriented as well as larger than most other Dutch collections. Moreover, Smit did not combine paintings with works on paper or old master art, as was customary. Other Rotterdam collectors exhibit an international orientation similar to Smit's. This is partly because, like him, they were advised by Rotterdam art dealers such as Jos de Kuyper, Jan van Mastenbroek and Willem Hendrik Köhler.
In his collecting pursuits, Fop Smit was guided by his mercantile ethos. He was a shipowner and came from a successful family of shipbuilders. In addition, he owned stocks and bonds at home and abroad worth several million guilders. His collection and motives for collecting dovetailed with the development of the growing international art market, in which Smit can be considered as one of the new, upper-middle-class collectors in a position to compete with other industrialists and for whom money was no object.